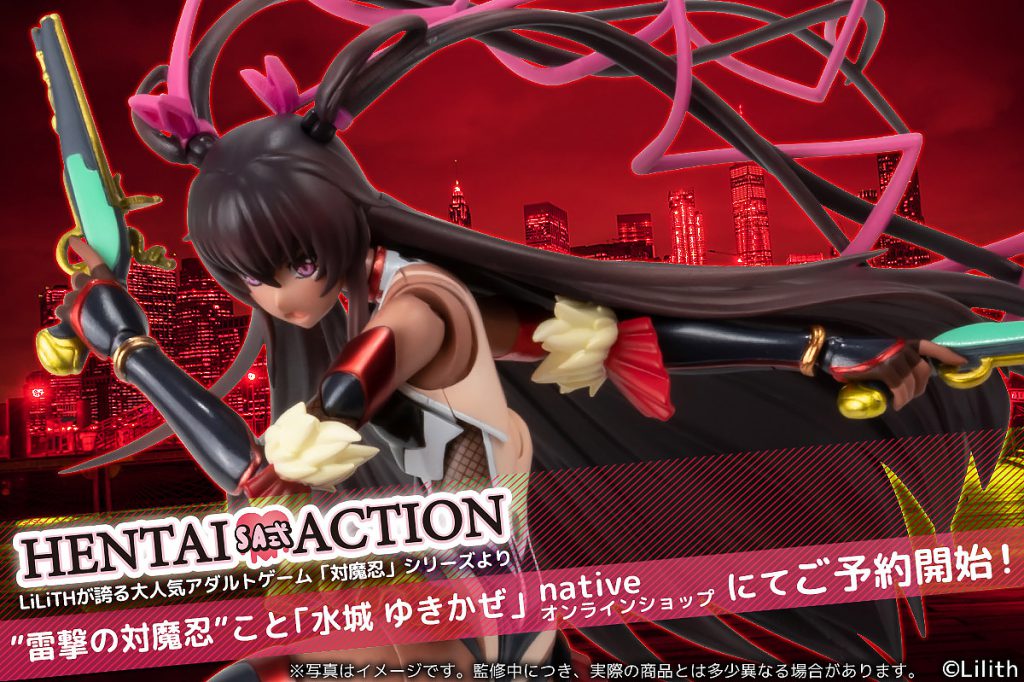 From the popular adult PC game "Taimanin" series by Lilith the heroine "Yukikaze Mizuki" is now an action figure in the SECOND AXE Style♥HENTAI ACTION line!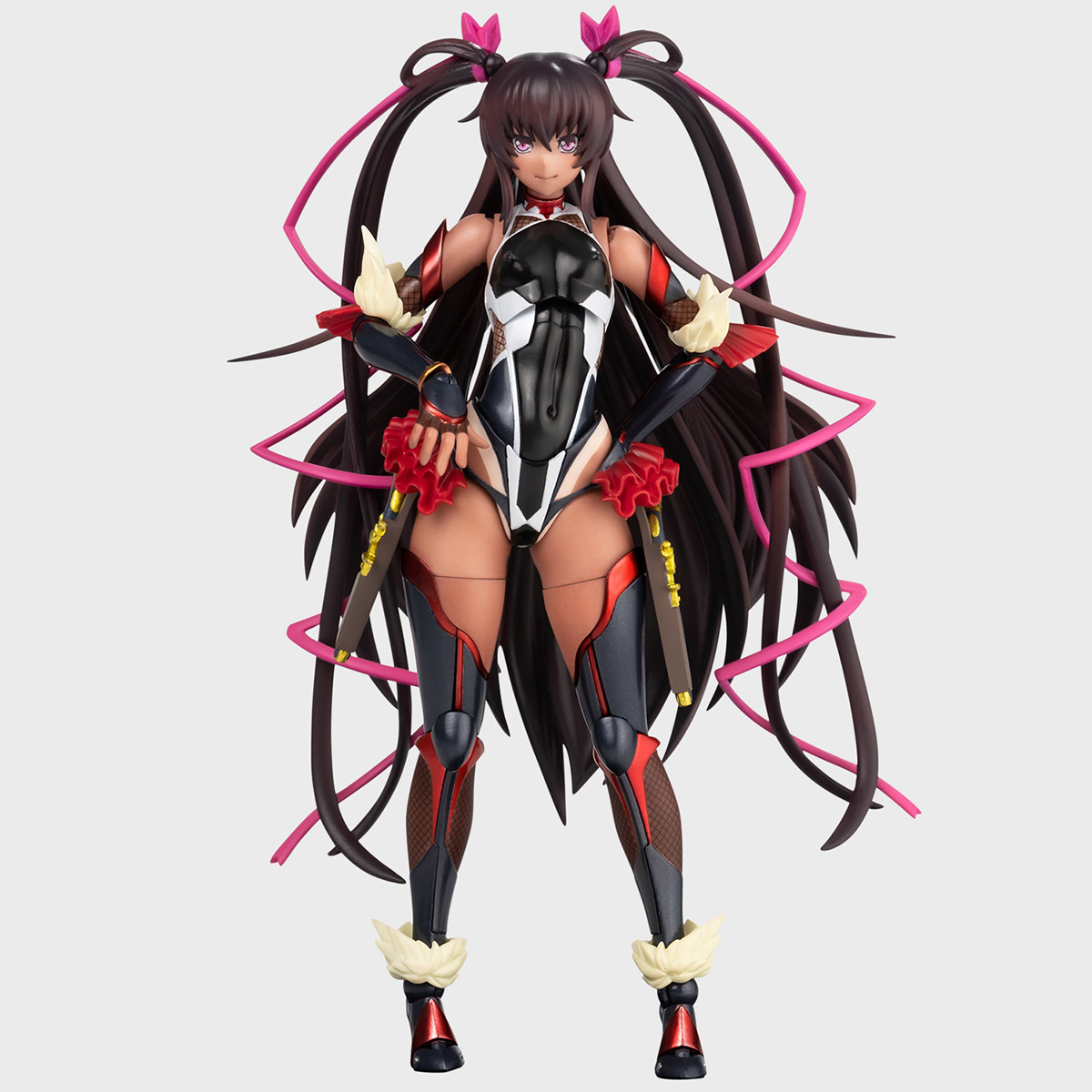 "Mizuki Yukikaze," a.k.a. the Lightning Taimanin. Under supervision from character designer Nagisa Aoi the design and proportions are based on her appearance in "Taimanin Yukikaze 2!" Once again after "Asagi Igawa," Takao Kinoshita handles the sculpt and the result is an amazing finish that you can hardly tell apart from a fixed-pose statue when standing straight!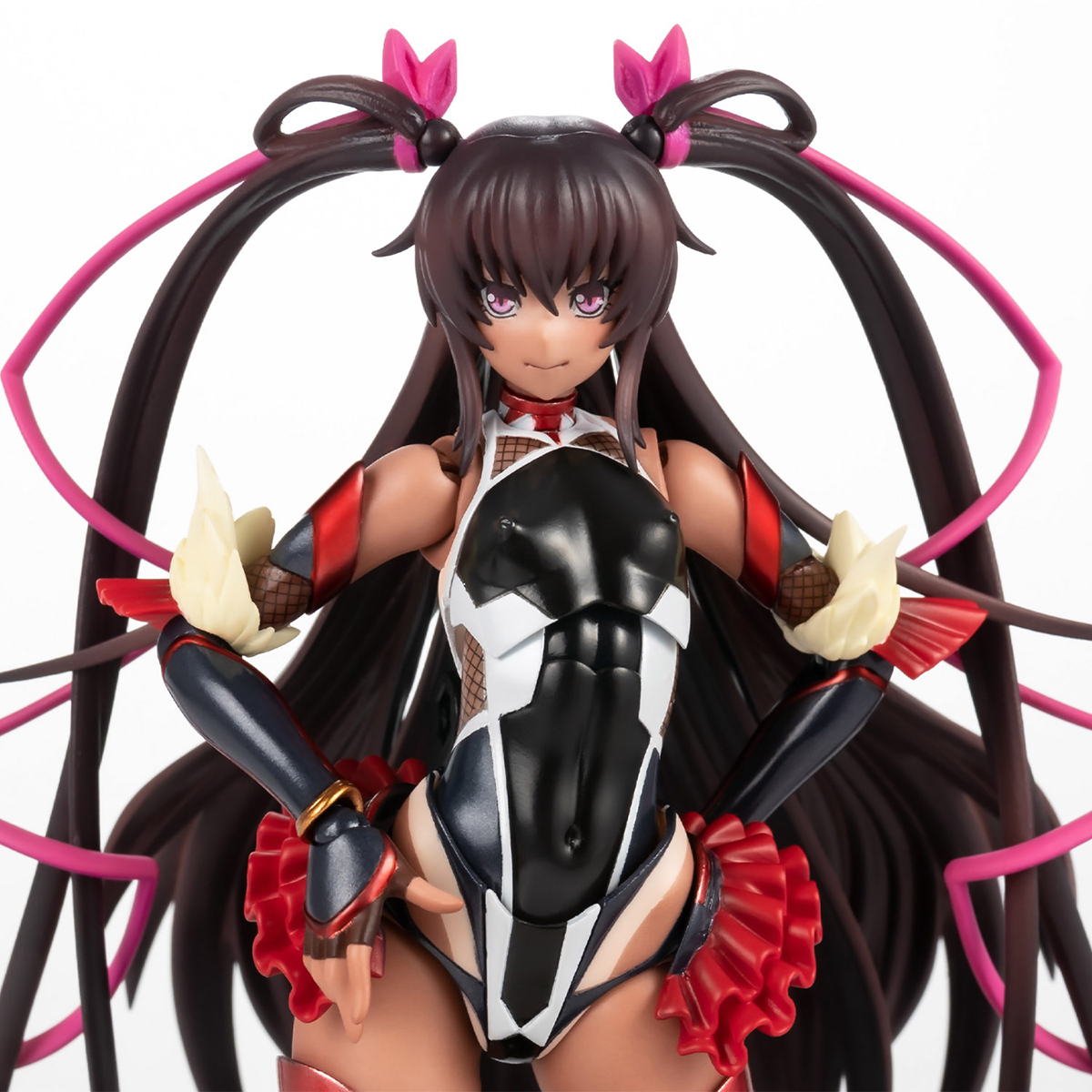 The tight fit of the Taimanin Suit which shows her body line such as the shape of her breasts and stomach line is portrayed entirely by sculpt! Metallic coloring is partly used for the Taimanin Suit which gives a sharp look and texture to the figure. The tan lines from her swim suit are also recreated which is a high fetish point!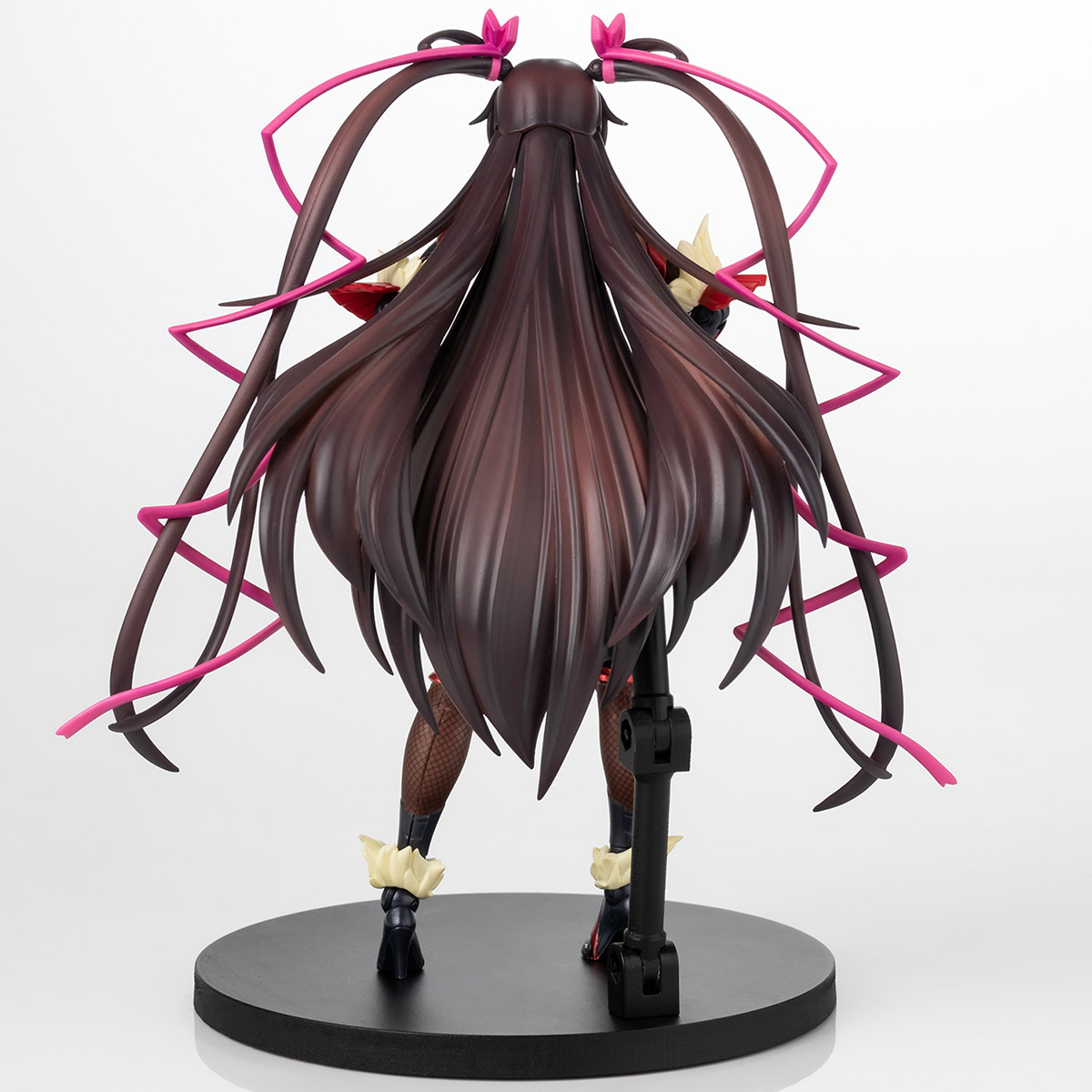 The distinctive two-side-up hairstyle. The twin tails are articulated by joint parts. The long hair part is formed of three parts sharing the same articulation framework with "Asagi Igawa."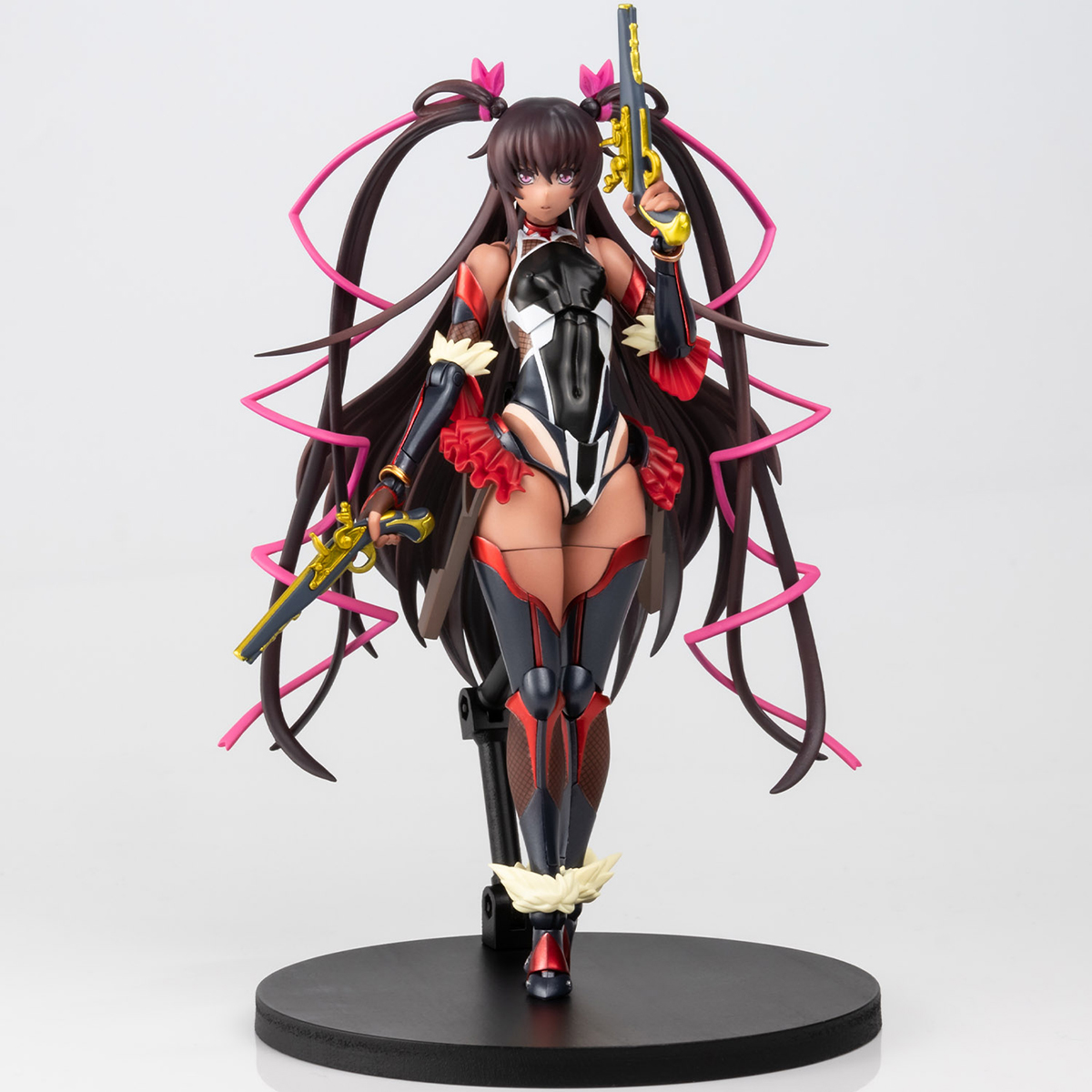 Although her thighs are thick in sculpt they can be closed together like in the photo above. Two "Lightning Shooters," her dedicated weapon to fire Lightning Arts are included and can be wielded with both hands! And by interchanging the frill parts the following three costume patterns can be recreated: Holsters with the guns drawn holsters with the guns stored and the costume without the holsters!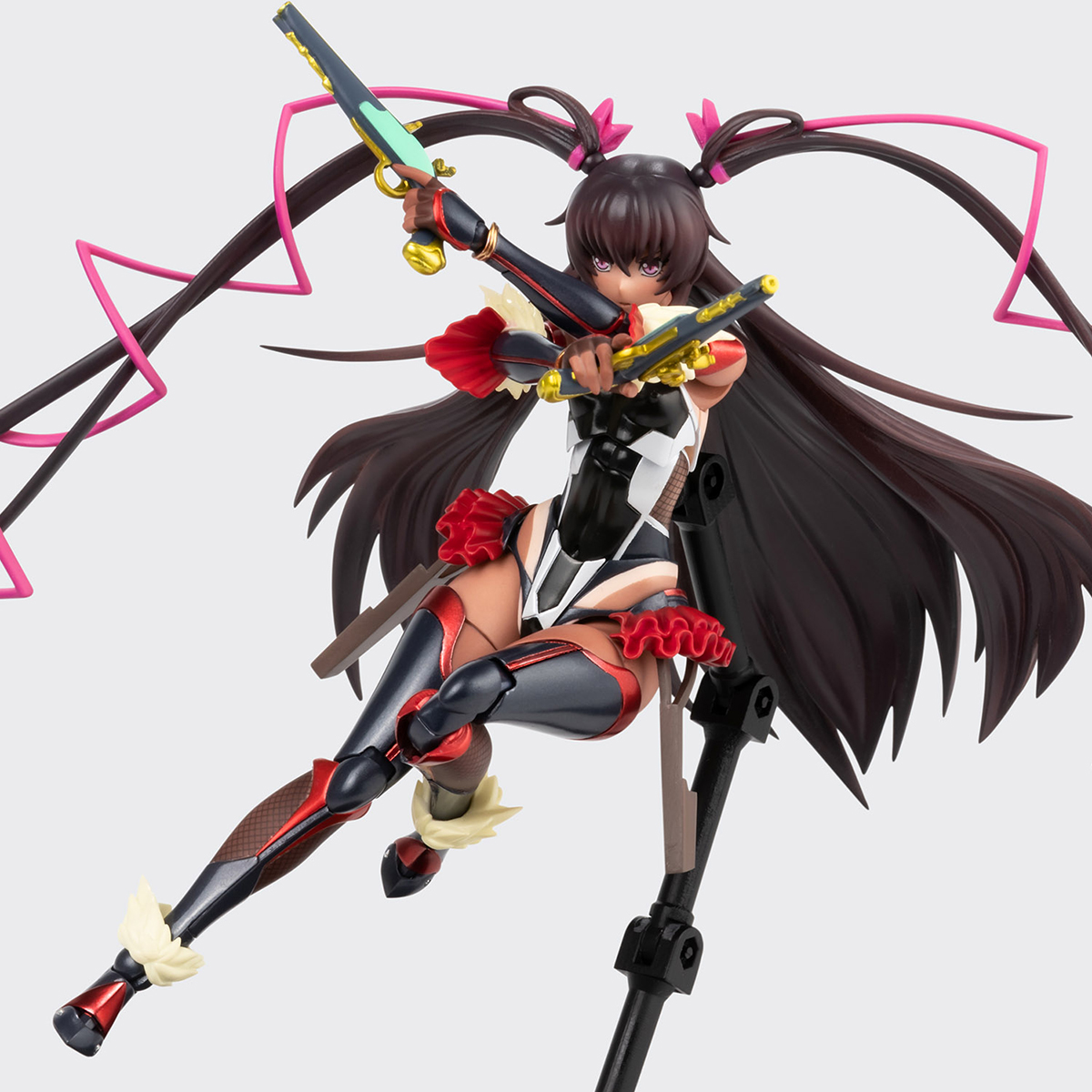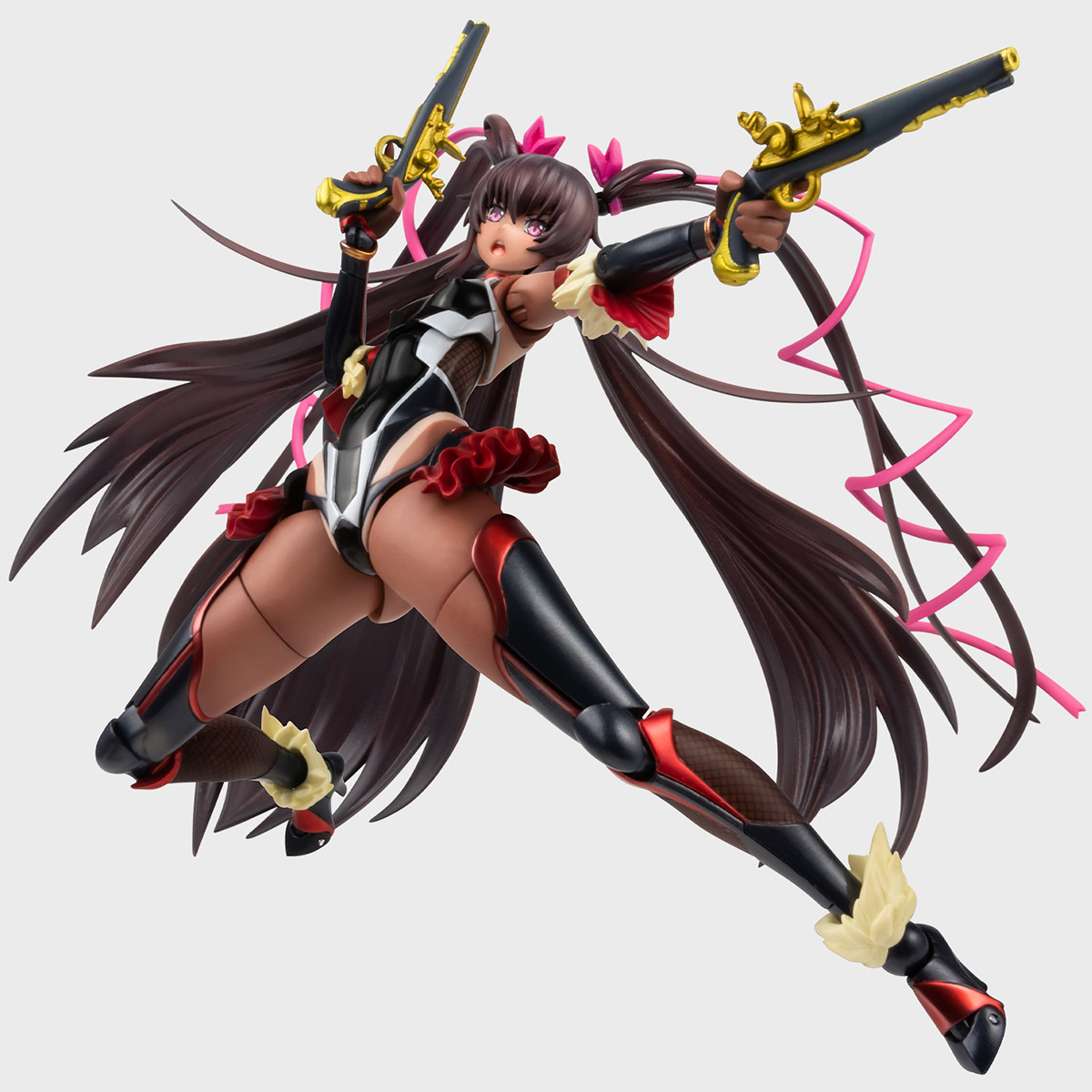 The shoulders can be pulled out for wider articulation when posing with the two guns. Also a dedicated articulated display stand is included to help with displaying her in a dynamic action pose!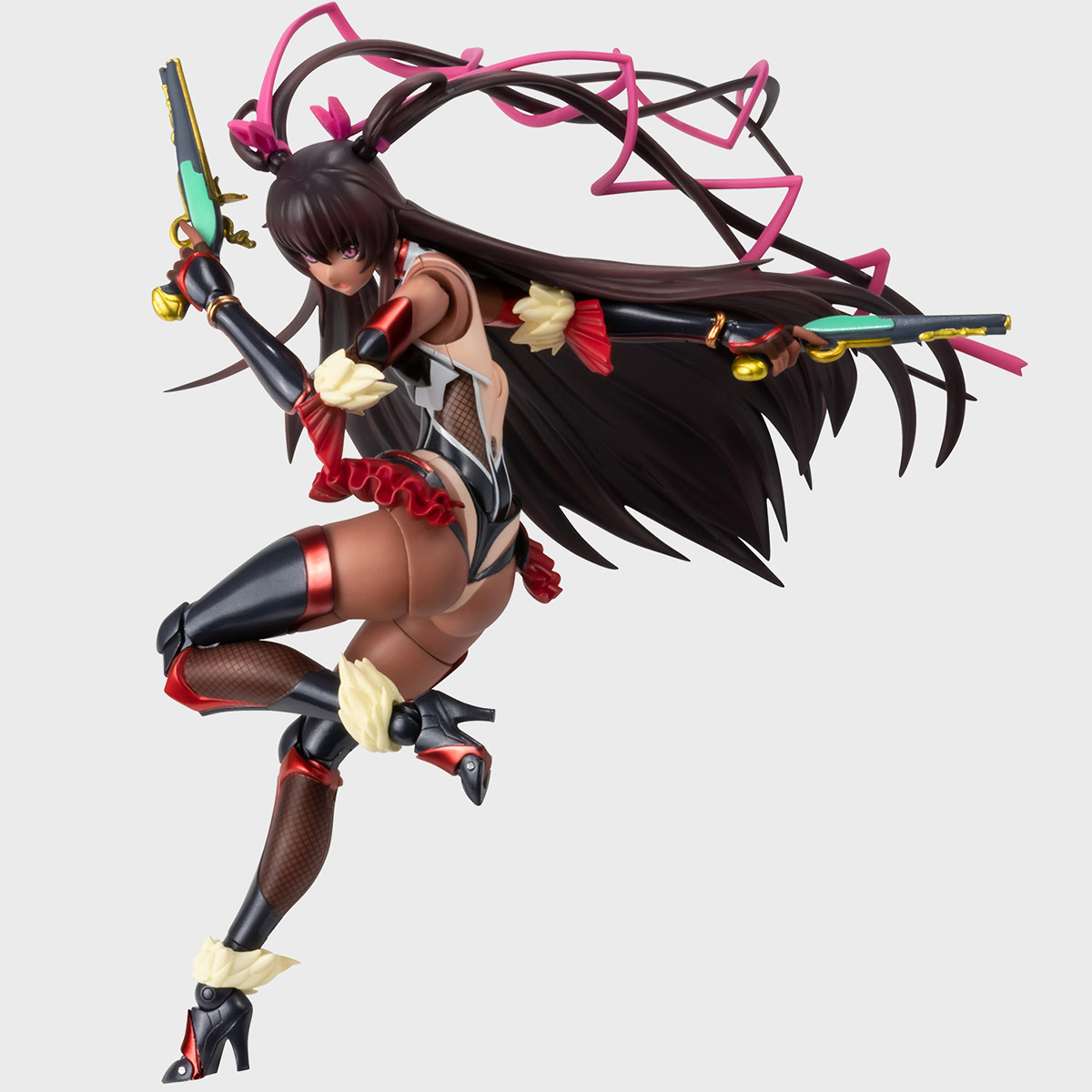 Although covered by her long hair most of the time you can check out her backside here! With a wide range of articulation at her pelvic joints the outline remains smooth even after posing!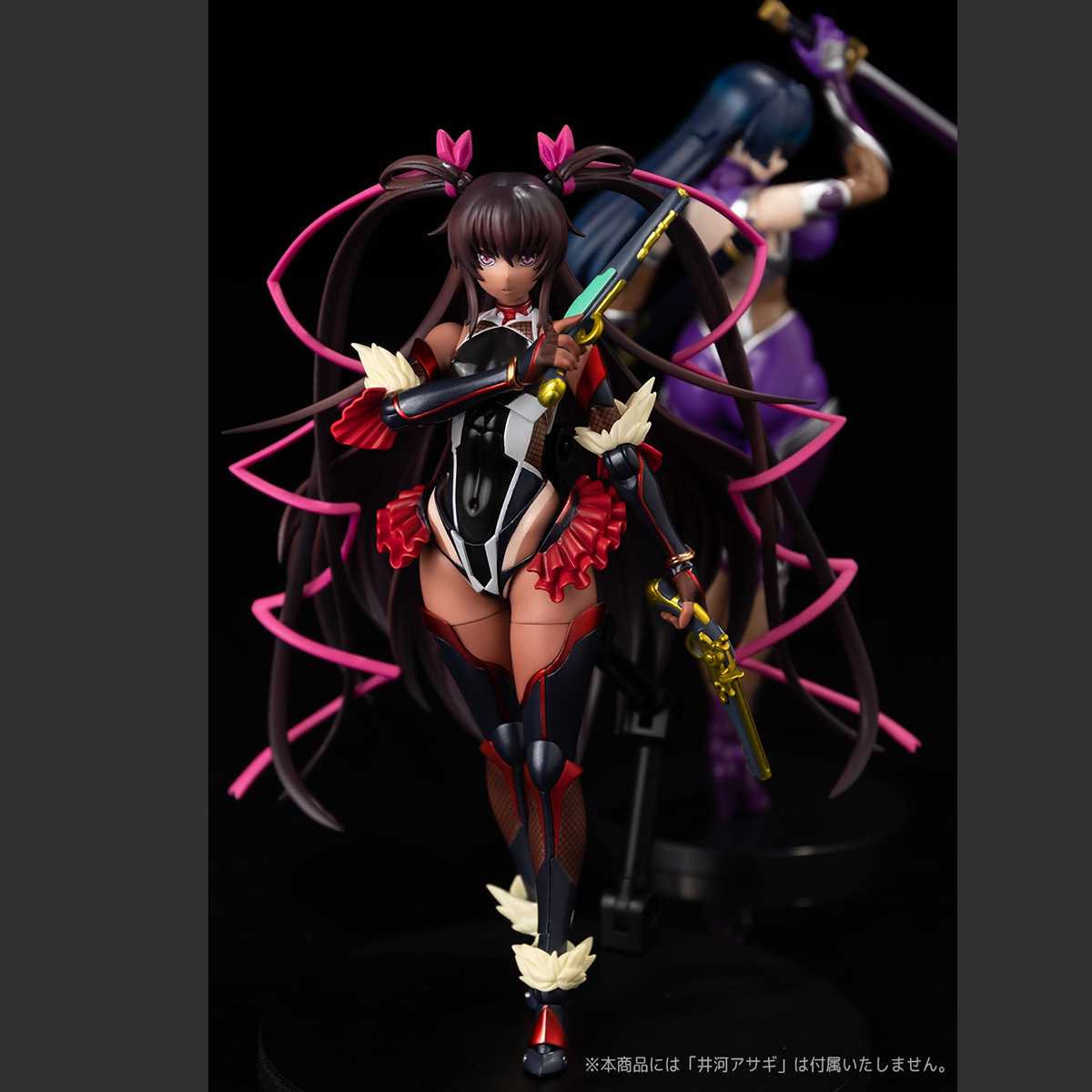 A crossover achieved only with action figures! This is a must-have item for everyone who already owns Asagi Igawa (pre-order closed)!
And now it's time to introduce the "R18 Option Parts" everyone has been waiting for!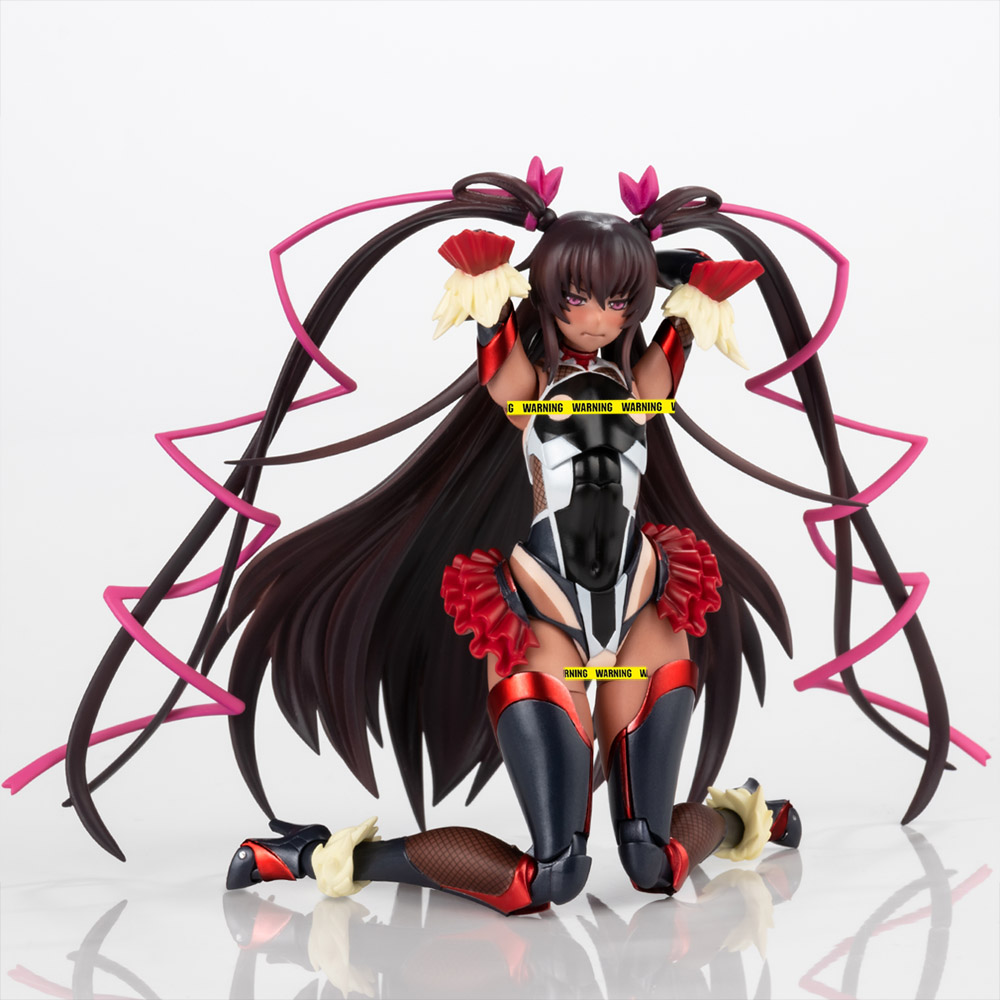 It's a bit hard to recognize due to the censoring but as usual the chest and crotch parts can be interchanged which exposes Yukikaze's tiny…um "breasts" and "genitalia!"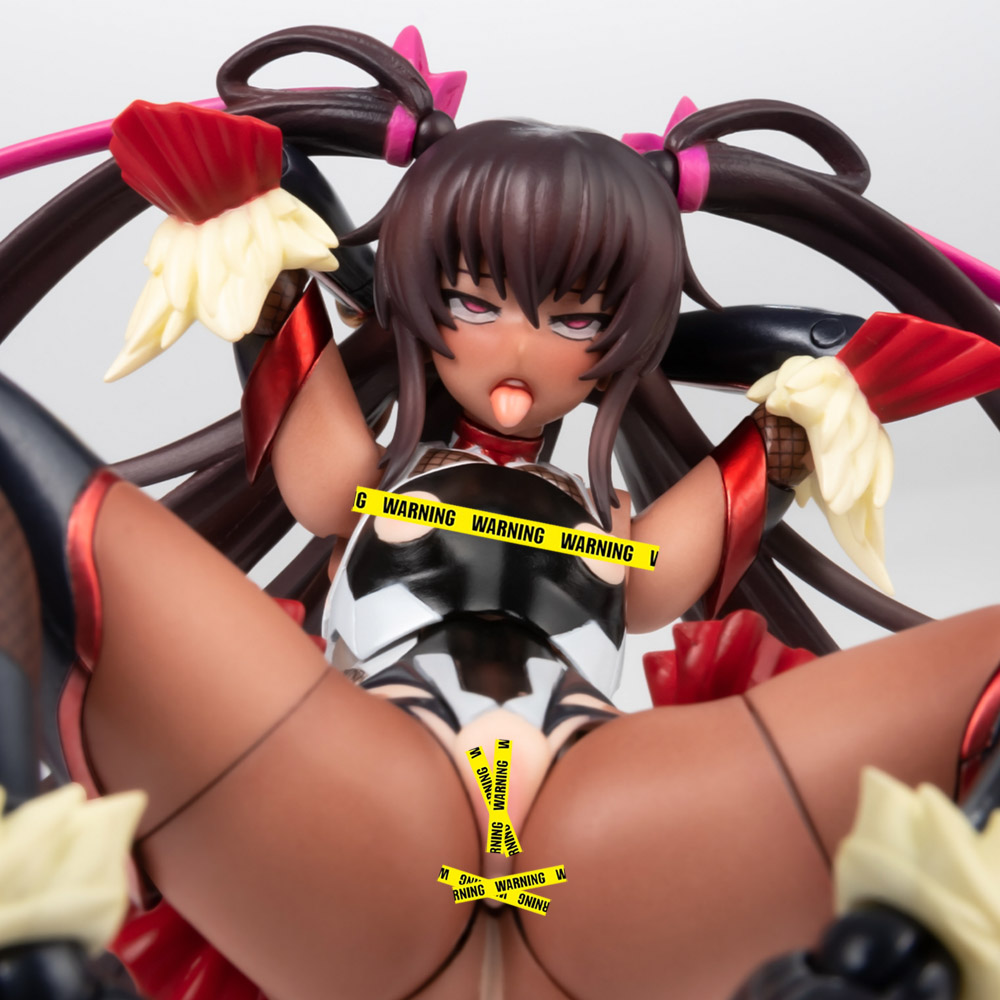 And as always the "O-face" is included here too!! The blank look in her eyes with her tongue out shows that she is perfectly fallen!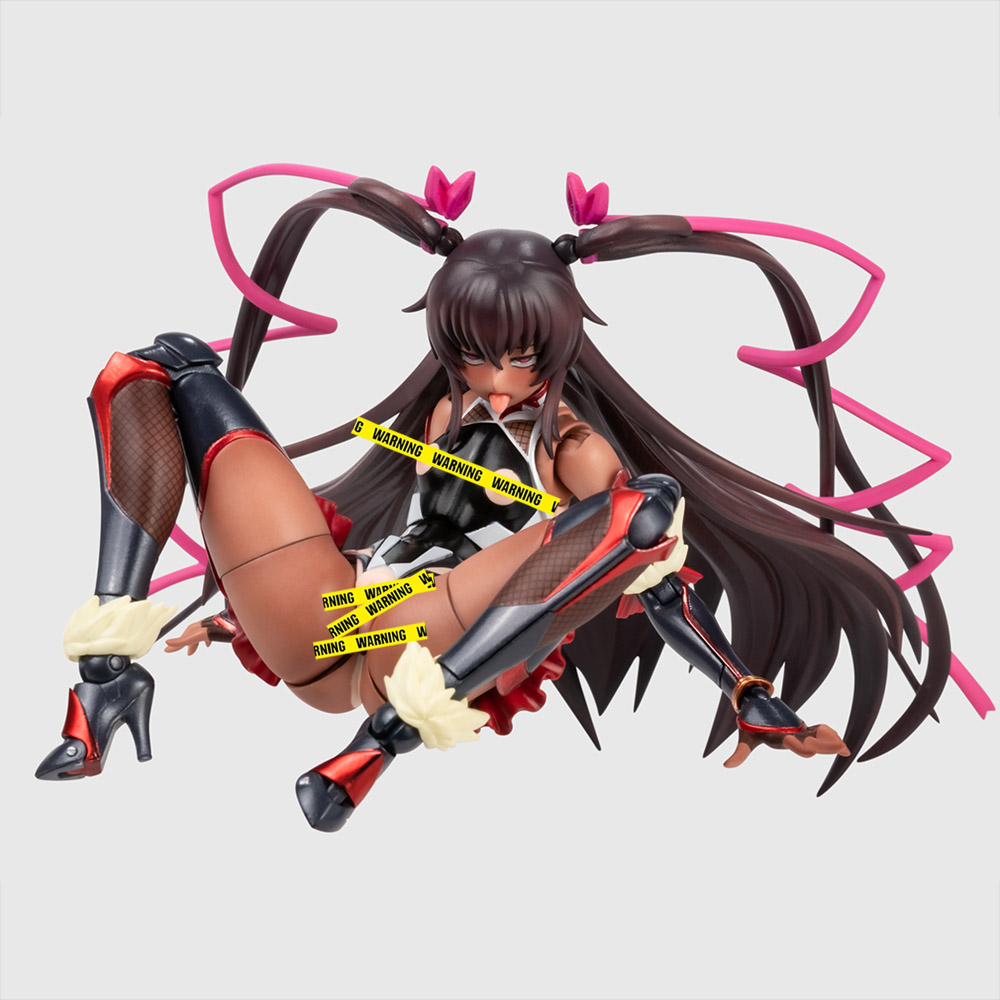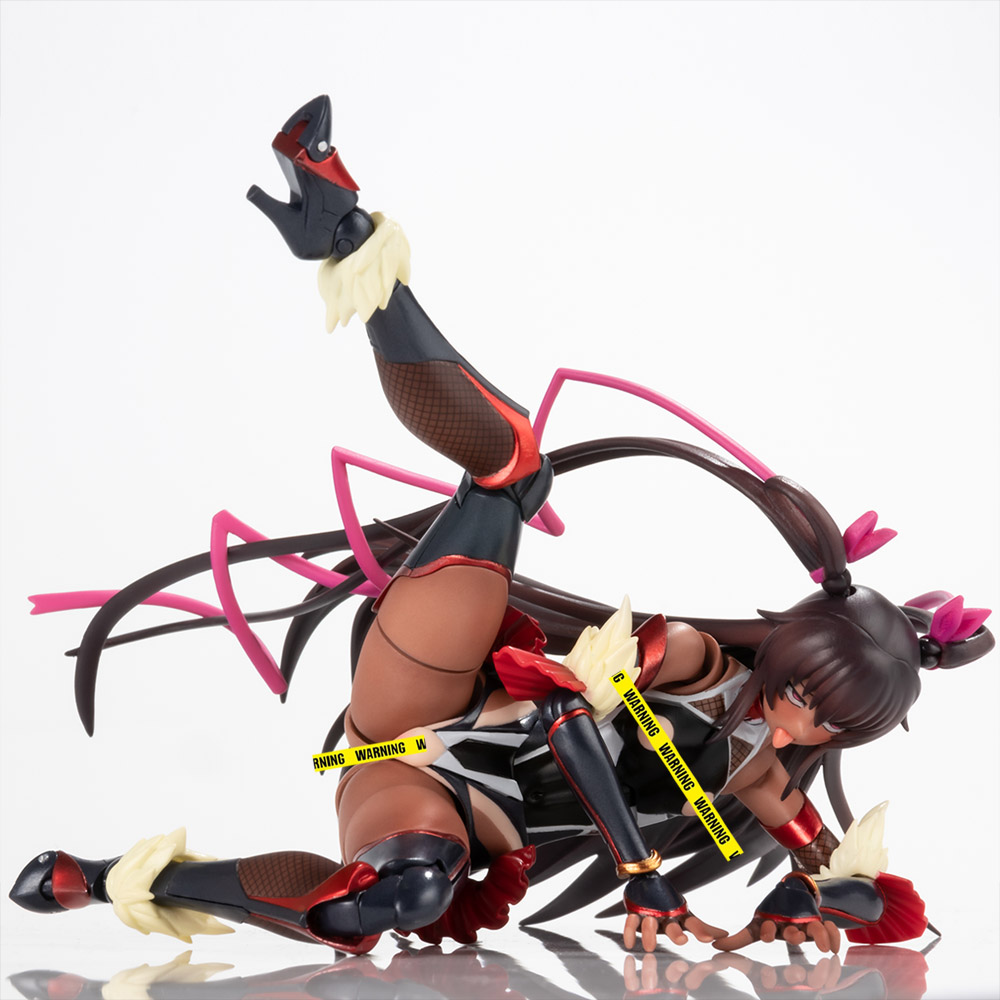 The extreme wide range of articulation of the figure helps to exploit the potential of the "R18 Option Parts" by 120%! The figure boasts a very free range of motion such as spreading her legs or twisting her body with her leg held up so that Yukikaze-chan being "Anti-Demonized" can be enjoyed to the max!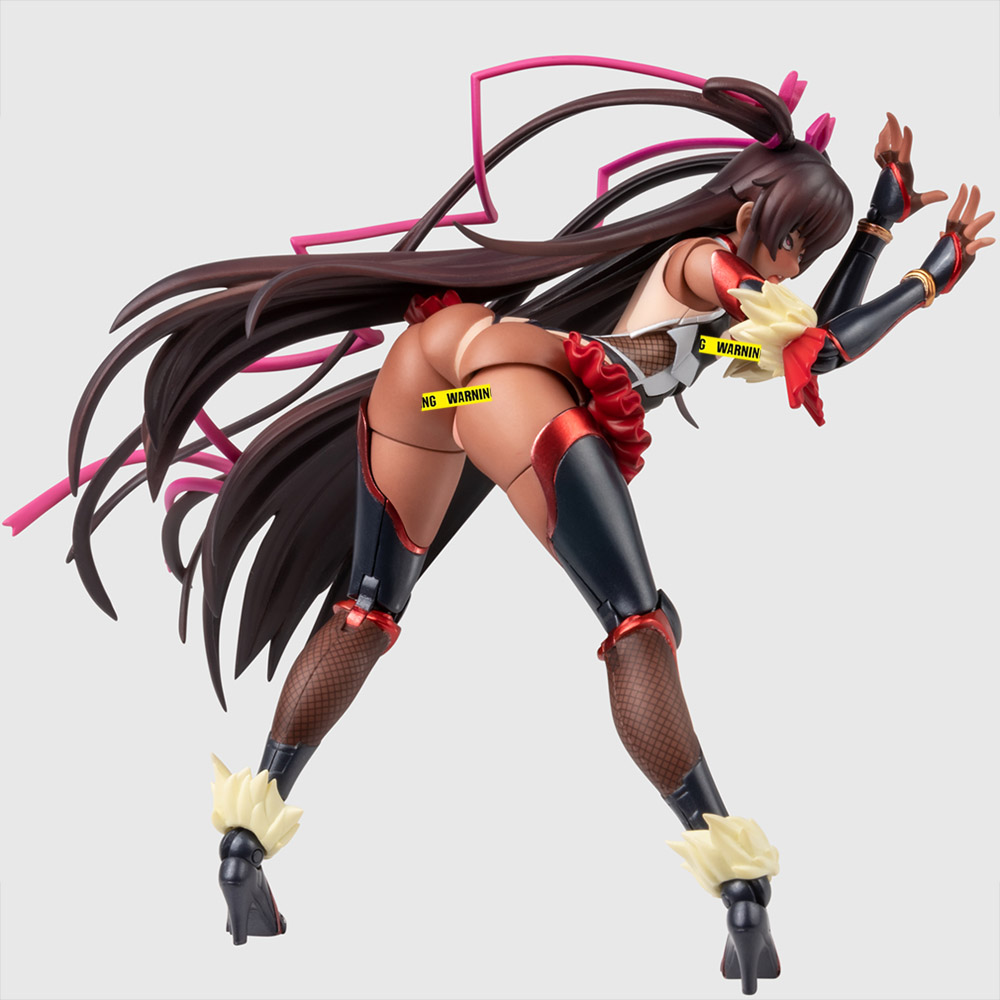 A standing-doggy style can be posed with ease like this! And please pay close attention to the censorship mark around her bottom. Yes… we have sculpted THAT detail too!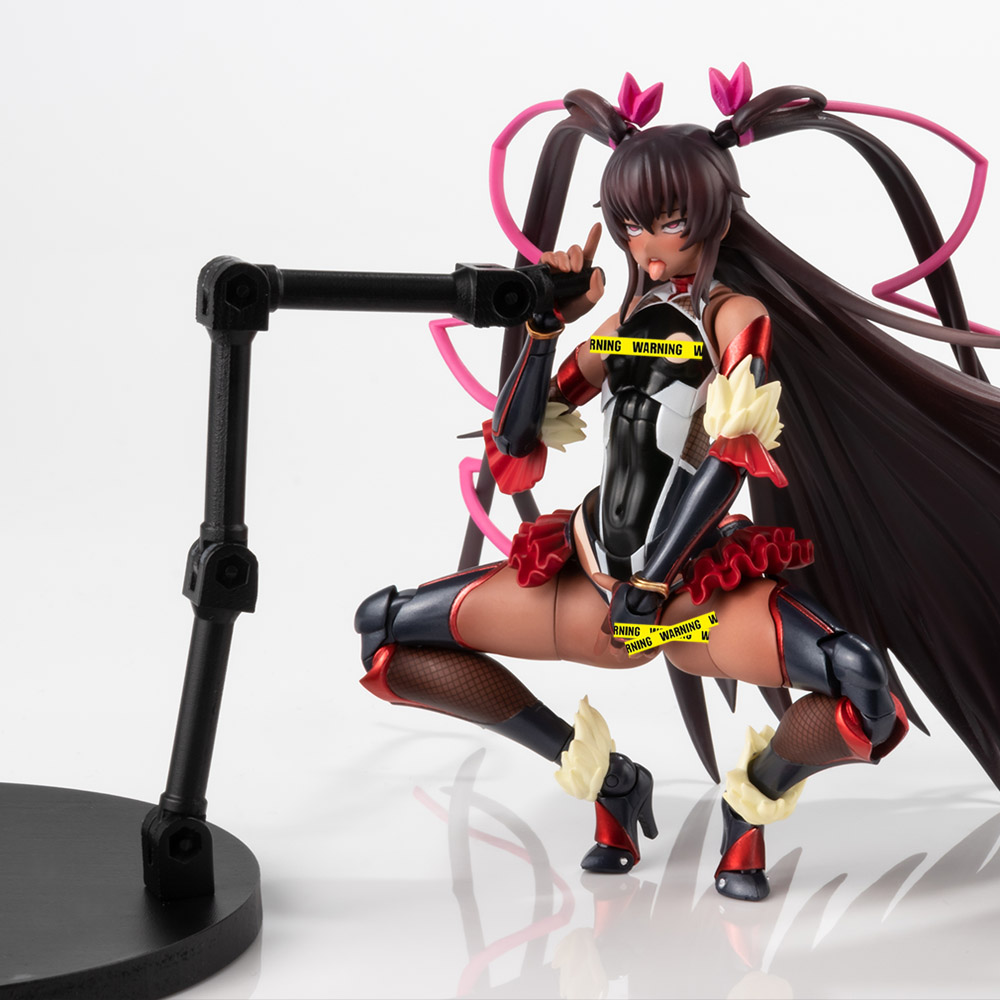 The display stand is articulated so this is one style of play we suggest! Isn't it strange that just a mere peg can stimulate so much imagination? The toe tips are also articulated so that you can pose her in a squatting position like in the photo!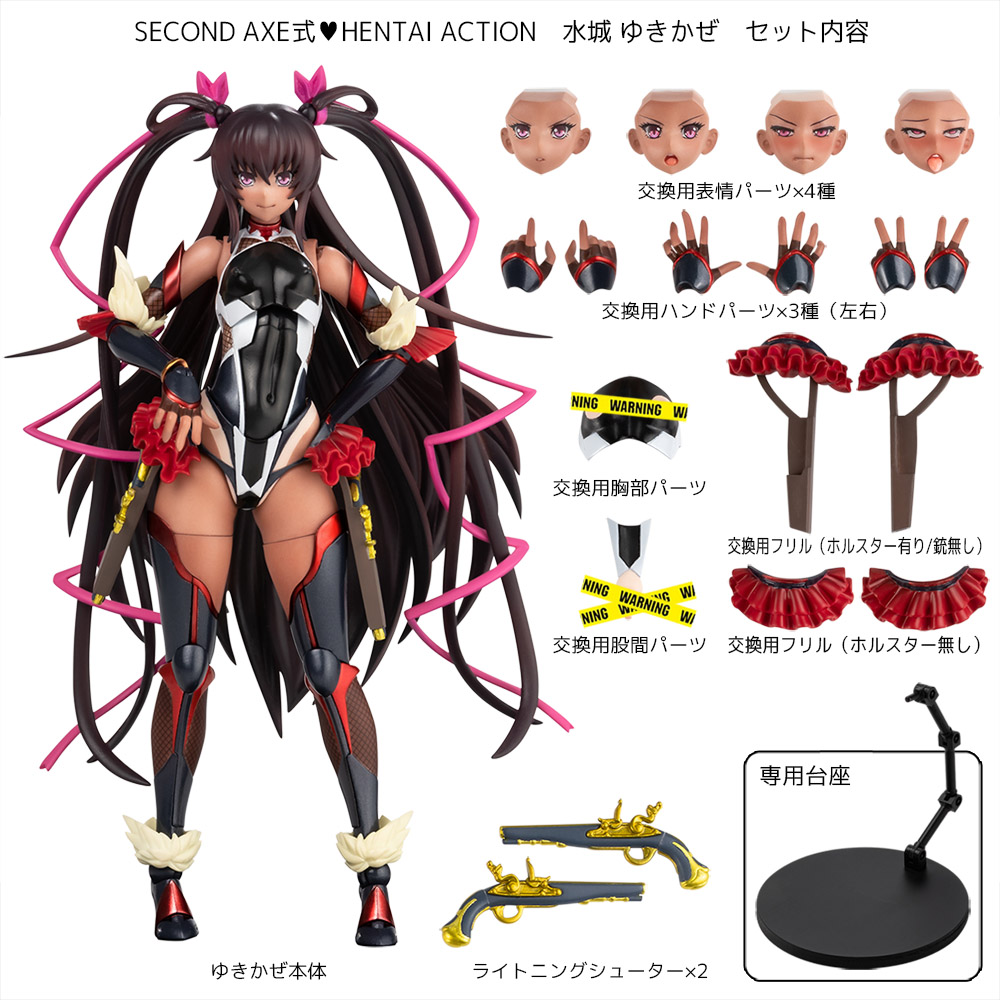 So here's the summary! The set comes with all the parts in the photo above. There are a total of five face parts including the default face! Plenty of playability with abundant hand parts and articulated display base! The item will be up for pre-order at "Native Online Shop" and "Lilith Store." Pre-order period: April 26th 2021 (Mon. 12PM JST) ~ June 28th 2021 (Mon. 7PM JST) This item will not be available at regular retailers so please don't miss this chance!
Bonus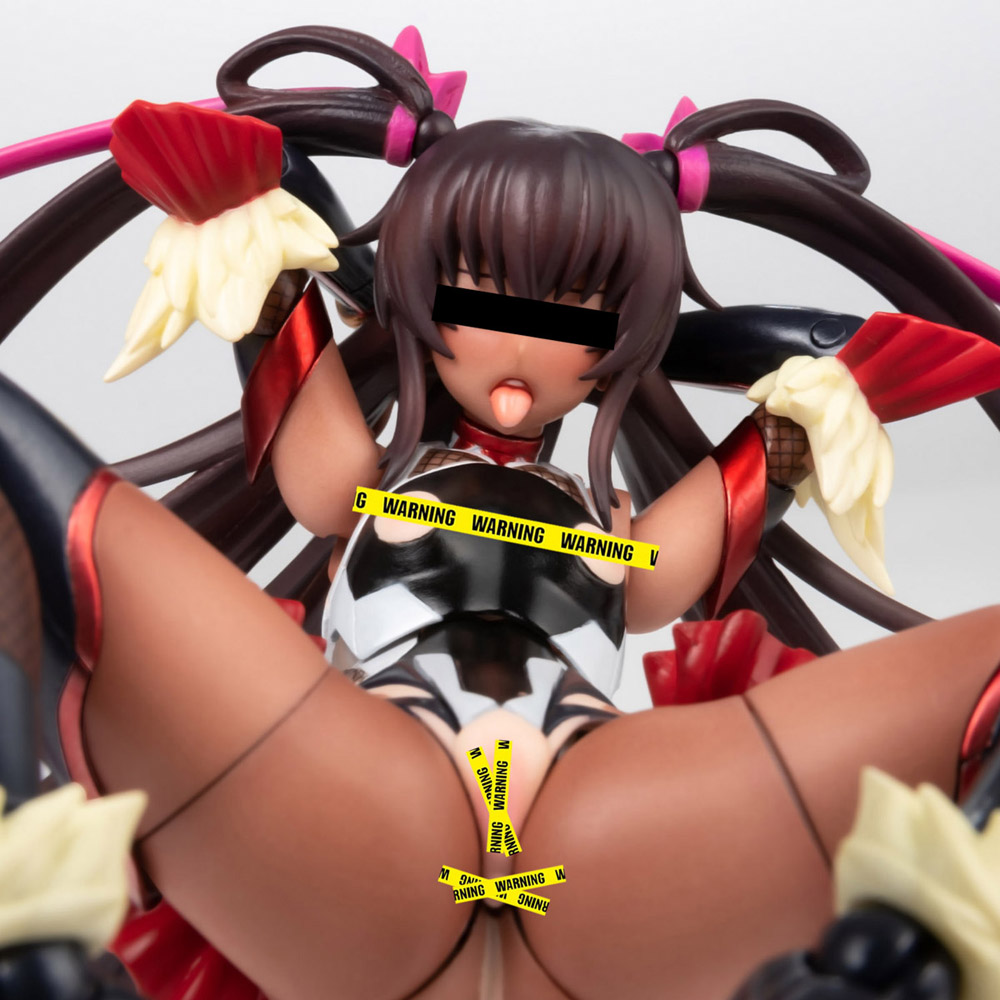 Just adding a black line to her eyes gives you a "Y Buta-chan" just like that♪.
【Product Details】
Product Name: SECOND AXE Style❤HENTAI ACTION Yukikaze Mizuki
License: Taimanin Series
Retail Price: JPY 18700 (Tax Included)
Release Date: December 2021
Product Type: PVC・ABS・PP・POM
Completed Figure Size: Nonscale (140mm)
Target Age: 18 and up
Sculptor: Takao Kinoshita
Developer: Second Axe
Distributor: Native Bonus: Illustration Post Card by Nagisa Aoi (For online purchases only)
Set Includes: Interchangeable face parts (x4) interchangeable chest part interchangeable crotch part Lightning Shooter (x2) interchangeable hand parts (x3 pairs) interchangeable frills (x2) interchangeable frills with holsters (x2) display stand Purchase Limit: 3pcs per customer ※Please purchase separately when purchasing other products.
Order Period: April 26th 2021 (Mon. 12PM JST) ~ June 28th 2021 (Mon. 7PM JST)

©Lilith